| | |
| --- | --- |
| | MRIreg: MRI-to-miniBird Registration |
It is often useful to coregister a MRI scan with the subject's real head geometry - for example, with Transcranial Magnetic Stimulation, it is useful to have a precise idea of which region of the brain is being stimulated. MRIreg is a free tool that allows you to identify which region of the scalp is near a particular brain region. To use MRIreg you will need:
MRIreg for Windows [free, shift+click here to download version October 2013].
MRIcro for Windows [free from the MRIcro home page].
A MRI scan for the person you want to register.
An Ascension Flock-Of-Birds/MiniBird, Ascension trakSTAR, or Polhemus Fastrak magnetic position tracker.
It is easiest to get good results from coregistration by using MRI scans where you have marked easy-to find landmarks on the individuals face or scalp (e.g. place liquid-vitamin gel-capsules on their facial beauty marks during scanning). You will need to find at least 5 anatomic landmarks.
| | |
| --- | --- |
| Start MRIcro, and make sure the 'Yoke' and 'XBars' controls are checked [outlined in purple on the picture to the right]. It is generally easiest to find landmarks in the 'projection' view that shows the Axial, Sagittal and Coronal views simultaneously [click on the 3D-cube button outlined in blue]. Load the MRI scan and find your landmarks (regions that you can identify on both the MRI scan as well as the individual's head [e.g. bones, nose, ears, etc]). If there are any anatomical regions of the brain you wish to locate (e.g. the motor hand area), you will also want to work out these coordinates. For all the landmarks, you will want to know where they appear in the X,Y and Z coordinates (outlined in green). | |
Start the MRIreg software. Switch on your Bird and switch it to 'Fly' when the sftware asks you to. If your Bird is connected correctly, the XYZ position of the bird sensor should appear at the bottom-right of the MRIreg window (e.g. 'FOB -742 139 892'); this value should change when the Bird sensor is moved. If this does not work, try adjusting the serial-port speed (the 'FOB' menu allows you to choose a speed between 9600 and 57600 baud, as well as letting you select either a bird or Fastrak system). Likewise, for Fastrak systems, make sure the tracker on and is connected to your laptop, and that MRIreg FOB menu is set for the proper port speed and tracker type.
You are now ready to add in coordinates to MRIreg. At this point, MRIcro should be displaying the MRI scan, and MRIreg should be displaying the position of the bird sensor (at the bottom right of the window) and the MRI scan coordinates (at the bottom left).
Step 1: Calibration

With MRIcro, click on the projection view to select an anatomical position. (You want to select the location where the sensor will be, e.g. instead of the tip of the nose, select a few millimeters anterior to the tip).
Move the magnet sensor to the location displayed in MRIcro.
Press the MRIreg '+' button (or press F1). A new spreadsheet row appears in MRIreg, showing the MRI position (left) and the corresponding magnet position (right).
Repeat steps 1-3 until you have entered all of your anatomical landmarks.You must enter at least 5 positions, more positions give better accuracy during magnet tracking. Pick well-separated points (e.g. select regions on the face, the ears, the back of the head and the top of the head; instead of only points on the face).
Step 2.Magnet Tracking

Once you have entered all of your anatomical landmarks in step one, press the 'correlation line' button on the bottom left corner of MRIreg to switch from calibration to tracking mode. This will have several effects:

The spreadsheet disappears. In its place you see the magnet-to-MRI transform function and the current magnet-to-desired MRI coordinate distance.
The MRI position in MRIcro will now change depending on the location of the magnet.

You can now enter the coordinates of your desired anatomical target (e.g. the motor hand area) in the 'desired MRI' boxes. MRIreg will estimate the current distance of the magnet from this point.

Note: The magnet-to-target distance is reported in voxels. For images where the voxels are not cubic (e.g. 1x1x3mm scans instead of 1x1x1mm scans), this can be confusing. Note that the bottom left shows the estimated voxel positions, so you can calculate the true distance yourself.
Magnetic sensor on scalp
After calibration the location of the magnet track can be observed:
Default location of FOB base unit:
all scalp locations within one meter
all scalp locations in single hemisphere of base unit
Normalization
Normalization refers to strecthing, rotating and warping brains from different people so that the resulting images are aligned in standard space. Once an image has been normalized, its shape roughly matches other normalized images. This allows you to use Talairach coordinates to describe different brain locations, and eases making group comparisons. There are two ways you can use normalization with MRIreg:
Conduct MRIreg positioning on the raw MRI scan. Then normalize the image and convert the locations you stimulated with the same transfroms you applied to the raw MRI scan. This allows you to describe the locations you stimulated in stereotaxic space. The advantage of this method is that you can apply both linear as well as nonlinear normalization transfroms, so you get a better fit. However, it is also more complicated.
Transform a linear-only normalization on the MRI scan. Use MRIreg with this normalized image. The benefits of this method is that it is simpler, you can directly target locations in Talairach/MNI space, and if your raw data is anisotropic (e.g. voxel sizes are 1x1x1.5mm, so they appear squished) the normalized image can be isotropic (e.g. 1x1x1mm).
If you decide to use normalized images with MRIreg, do NOT use nonlinear transforms. MRIreg automatically adjusts for linear differences between MRI scans and coordinates measured by the FasTrack/FoB systems, however it can not correct for nonlinear distortions. You can use several tools to normalize you images. Popular tools include AIR, FLIRT, MNI_AutoReg and SPM2. Here I script that I use to apply a linear normalization using SPM2. To run this script: first install Matlab and SPM2. Put the .m file below in your Matlab path and then type 'norm_lin_1mm_mask_tms' from the Matlab command line.
Only applies linear transforms
Matches image to T1-weighted template (i.e. assumes input is high-resolution anatomical scan).
After a rough first pass normalization a brain mask is applied followed by further normalization, ensuring that alignment is based more on the shape of the brain than the surrounding scalp.
Reslices images to an isotropic 1mm.
The bounding box I use includes much more of the neck and jaw (extends more inferiorly) than standard. This allows MRIreg to use jaw positions for registration.

Because this bounding box is so unusual, MRIcro will not suggest using a brain mask if you skull strip the image. MRIcro 1.39 and later include a simple technique for allowing you to skull strip these images:

Open the normalized image with MRIcro.
Choose 'Skull strip image using BET' from the 'Etc' menu.
Hold down the shift key when you press the 'Go' button. MRIcro will ask whether you want to apply a brain mask - choose 'Yes'.

The code here works very well for my data from 1.5T scanners. For data from 3.0T scanners I switch off the brain mask (put a % at the beginning of the line that starts 'dnrm.estimate.weight'. Furthermore, for 3.0T data I typically use SPM2's homogeneity correction prior to normalization (press the 'bias corr' button from SPM2).
contents for norm_lin_1mm_mask_tms.m: place in spm folder %green text are comments, not code
%Use norm_lin_1mm_mask_tms to conduct linear normalization on a series of T1 mri scans
fprintf(['Use norm_lin_1mm_mask_tms to conduct linear normalization on a series of T1 mri scans \n' ]);
spm_defaults %initialize spm variables
global defaults %initialize variables
dnrm = defaults.normalise; %normalization is based on SPM defaults
dnrm.write.vox = [1 1 1]; %set resilcing of high resolution images for 1mm isotropic
dnrm.estimate.cutoff = Inf; %nonlinear normalization ONLY
dnrm.estimate.weight = ''; %use a mask for the template image
dnrm.estimate.weight = fullfile(spm('Dir'),'apriori','brainmask.mnc'); %use a mask for the template image
%dnrm.write.bb = [[-91 -125 -71];[89 91 109]]; %set bounding box to match ch2bet
dnrm.write.bb = [[-101 -135 -129];[99 101 109]]; %set large bounding box
VG0 = spm_vol(fullfile(spm('Dir'),'templates','T1.mnc')); %match scans to the T1-weighted template
V = spm_vol(spm_get(Inf,'*.IMAGE','Select images')); %have the user select image
for i=1:length(V), %repeat for each image the user selected
[pth,nam,ext] = fileparts(V(i).fname); %segment file path/file name and extension
VF = spm_vol(V(i)); %select the MRI scan
prm = spm_normalise(VG0,VF,'',dnrm.estimate.weight, '' ,dnrm.estimate); %normalize an image
spm_write_sn(V(i),prm,dnrm.write); %reslice the image to new coordinates and save to disk
end; %repeat for each image
A few important notes:
For historical purposes, the you can shift+click here to download version 0.999. Hopefully, new version should be better in every respect. However, the ancient v 0.999 was used for a long time and is known to be stable.
MRIreg computes a multiple linear regression to map the magnet coordinates onto the MRI coordinates. Engineers call this a 'least squares linear estimation'. Pressing the 'normal distribution' button in the 'magnet tracking' mode presents the estimated errors for the computed model.
Large metal objects can distort magnetic trackers. MRI scans are also slightly distorted by the materials they are imaging. This software is for scientific use only: do not use this for clinical purposes.
Poor coordinates or head motion will reduce the accuracy of the registration. Have the individual use a chin and head rest to minimize movements.
Try to keep the magnetic sensor at the same orientation throughout, therefore the computed sensor position will be constant for all measurements.
If you are using Transcranial Magnetic Stimulation, use the bird in a separate and distant room from the TMS wand. It is probably advisable to shutdown the Bird before creating 2 Tesla magnetic pulses with the wand. You may want the individual to wear a swimming cap during registration and TMStimulation, so you can mark scalp and cortical landmarks.
It is best to use the subjects original MRI scan. Scientists often 'normalize' scans to match a generic brain shape and size. These transformations (particularly the nonlinear transforms) can hinder accurate MRIreg registration. Even if you do want to work out your locations in normalized space, it is better to compute your coordinates on the original MRI scan. Later you can conduct normalization and use the computed transforms to transfer your MRIreg coordinates to normalized coordinates.
Magnetic tracking is not the only way to compute spatial location. There are also RF based (e.g. Polhemus Isotrak) mechanical (e.g. Surgeon Arm, FARO Technologies) and optical (e.g. Polaris, Radionics, IGT Pixsys) trackers. The optical trackers allow position to be collected during TMS sessions, allowing scientists to better gauge wand location and wand. In addition, by using more than one sensor, one can compute the wand angle, again better estimating the location of stimulation. For more details, please see Paus (1997), Neuropsychologia, 37, 219-224. Well-funded scientists may want to consider the Polaris (Northern Digital) infra-red tracking device combined with Brainsight, LocalLite, or ANT Visor software. However, many labs have the inexpensive Fastrak, miniBird or Flock-of-Bird systems, allowing MRIreg to play a role as a cheap and cheerful solution. Also, you may want to examine the Neural Navigator (NeNa).
The maximum range for a miniBird or Flock of Birds is 36 inches (with a standard transmitter). Therefore, all measurements should be conducted within 36 inches of the transmitter. It is important to remember that the distance from the transmitter is a sphere - not a cube. Therefore, the sensors will typically go out of range before any of the dimensions (X, Y or Z) have reached their maximum value.
My neuroanatomy atlas is a useful guide for identifying cortical landmarks, including the motor cortex.
Bonus software - the MRIreg download also includes Matlab code for viewing and recording (in Brain Vision Analyzer format, which you can import into EEG lab) the Ascension Flock-of-Birds, Mini-MBird and trakSTAR. Click here to see the Matlab script.
For Ascension Bird systems:

You should have a cable connecting the serial port of your computer to the Bird system (this is a 9-pin male-to-female cable that directly connects pins 2to2, 3to3 and 5to5). Important note: if you use a standard serial cable pin #7 needs to be removed otherwise a signal is sent to the bird resetting it that precludes any recordings.
Make sure you have the DIP switches on the back of your flock-of-birds system set up correctly. The current version of MRIreg defaults to 115,200 bps, so you should set switches 1,2,3 and 7 ON, and have the other switches off. If you are using the obsolete versions of MRIreg, it defaulted to 57,600 bps. For a 57,6000 bps setup, you should set switches 1,2 and 7 ON, and have the other switches OFF.
You can use a Ascension miniBIRD instead of the flock-of-birds. This uses the same DIP switch settings. However, the miniBIRD does not work with all serial ports. A solution is to remove pin 7 from the serial port cable used to connect the miniBIRD to your computer. With this modification, the miniBIRD will work with MRIreg (though the cable may not work with other equipment).
This software works with the Ascension trakSTAR. Simply connect the RS-232 port of your trakSTAR to your computer's serial port and make sure MRIreg is set for 115200 bps communications (the only speed supported by the trakSTAR). Note that the smaller trakSTAR sensors have a very small sensitivity region (as shown in the image below).
The sketch above shows the correct location of the FOB base unit with respect to the head. Coordinates are mirrored in each of the base unit's hemispheres, so it is important that all scalp coordinates are located within a single hemisphere of the base unit.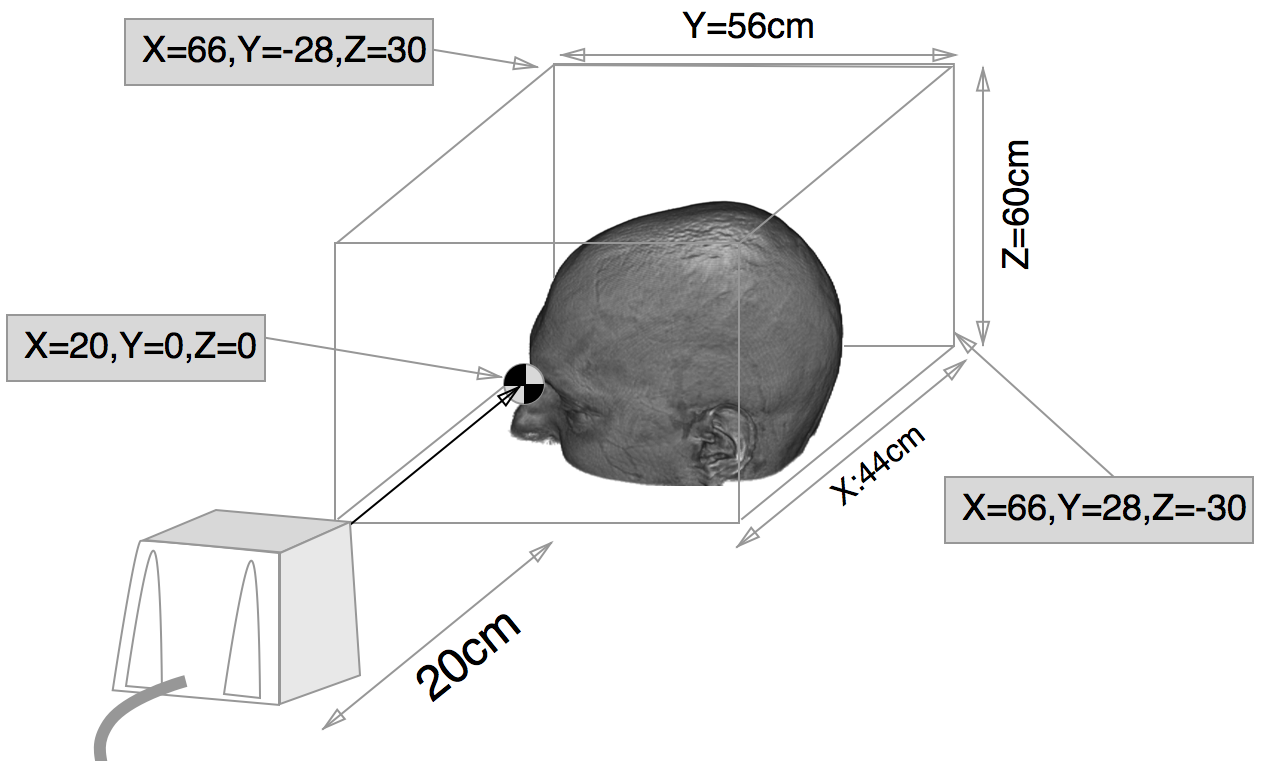 This figure shows the small bounding box of the trakSTAR with model 800 sensors. See "Performance Motion Box" section of the trakSTAR manual.